Number one accommodation on Koh Lipe I'm currently on Koh Lipe. There are many services. all over the island of Koh Lipe Each place has a pattern. The identity of the accommodation is different, depending on whether it is modern style, Thai style, Balinese style, or natural style accommodation. have a location seaside accommodation Accommodation near the old road or accommodation on Koh Lipe's famous beach If you come to visit Koh Lipe, we recommend a room on the beach. See the view of the sea, clear water, and beautiful sandy beach in front of the resort. must be here. Ananya Lipe Resort (Ananya Lipe Resort) has been open since October 1, 2019. Its location is on Koh Lipe (Koh Lipe) at Pattaya Beach. It offers luxurious accommodation with a restaurant, free WiFi, and an outdoor swimming pool. Our swimming pool is divided into two parts. Swimming pools for adults (the adult pool) and children (the children's pool), 3 bars, gardens, and white sandy beaches Located near an important landmark, near us there are restaurants, entertainment venues, and Koh Lipe Walking Street. We are a 5-star hotel. Our service is number one. We have two types of rooms: Deluxe Pool View and Standard. The room is located on the second floor. You can see the large outdoor pool from the room and the Deluxe Pool Access room. capable of swimming at any time in the deer's large space It is modern and beautiful, with woodwork decor. with the best facilities for the convenience of service users, value for money Every day, we strive to provide the best possible experience for our customers. In the past, there has been a crisis with the COVID-19 epidemic. We have placed great emphasis on safety and epidemic control. There are measures to maintain cleanliness in all rooms. and general public areas to disinfect the areas that are especially exposed. Protective clothing and equipment are prepared. We have trained our property staff on safety knowledge and best practices in cleaning and safety measures. On Koh Lipe, there are more than 130 accommodations rated by well-known hotel reservation providers Agoda.com, Booking.com, and TripAdvisor.com. The ranking will be measured by excellent reviews from real users to determine the number one accommodation on Koh Lipe.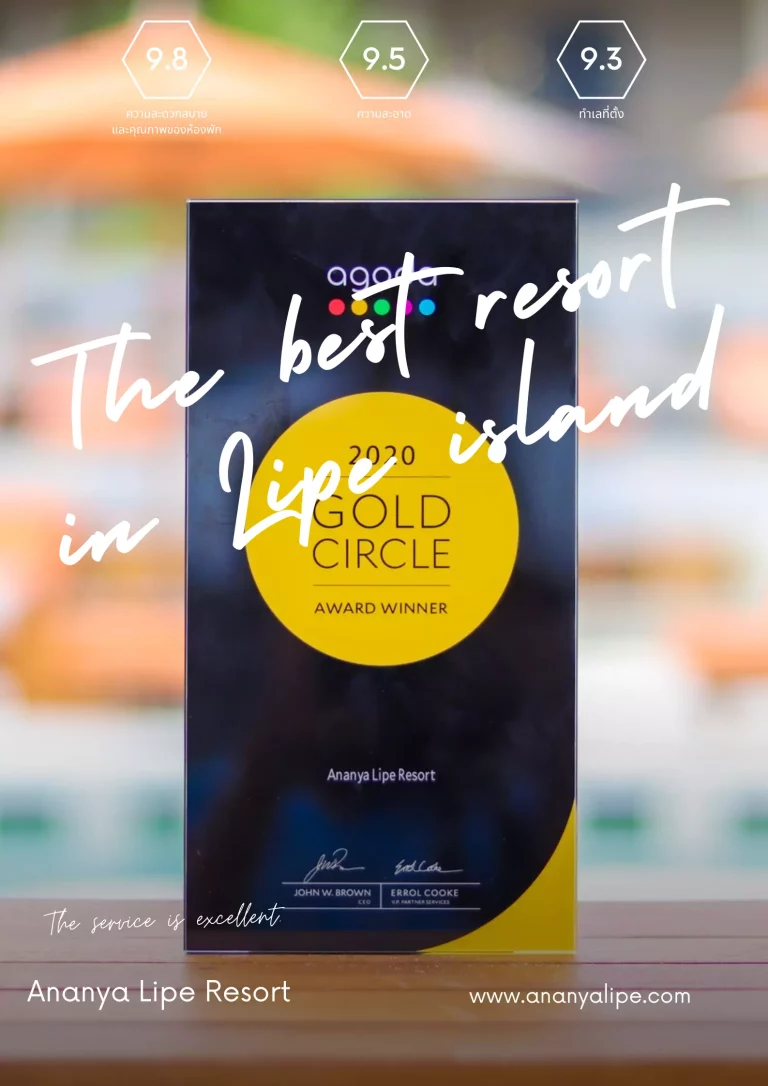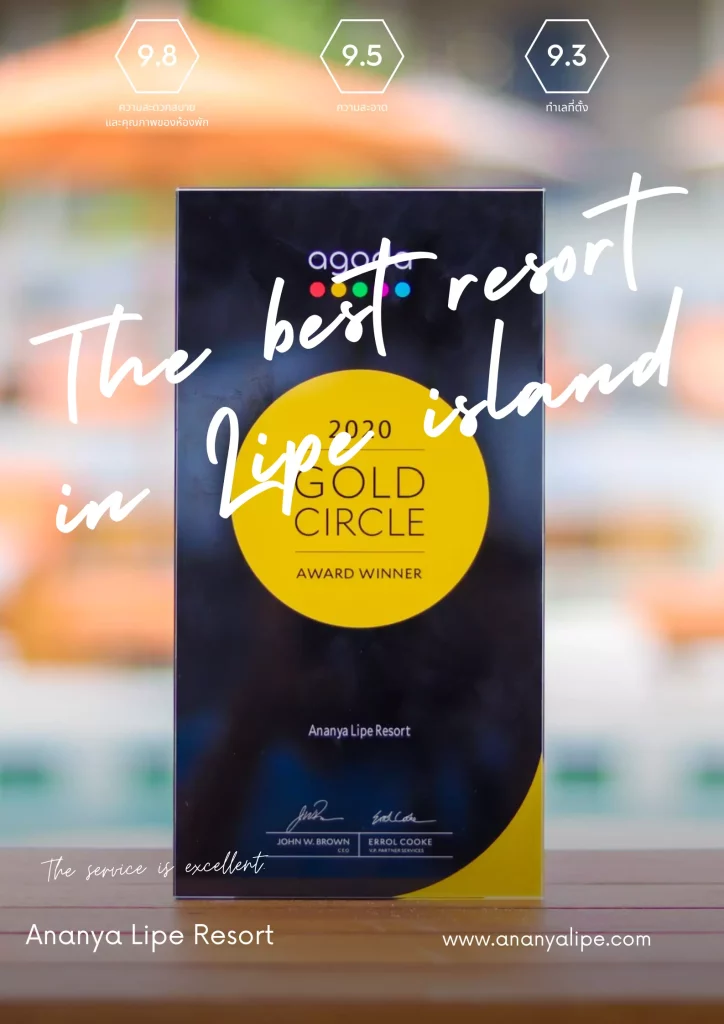 The prestigious Gold Circle Award (Agoda Gold Circle Award) comes from Agoda.com, the online hotel reservation company that guarantees the best rooms. Best Value In Asia, the Gold Circle Award is given to Agoda.com hotel partners for outstanding service in the hotel and travel industries. This award is a symbol of excellence in the hospitality industry. It is given to top hotels around the world. When travelers see the Agoda Gold Circle Award, they can be confident that they've chosen a quality accommodation that's at the forefront of the hotel industry. a comprehensive range of excellent services through which customers can book a boat to Lipe in boat to Koh Lipe With a price that is definitely worth it, Receiving this award was not easy at all. A hotel must receive a lot of positive customer reviews and implement a yield control system (YCS) and many other elements, such as All customer review scores operational efficiency, price competitiveness expression of understanding of the nature of business and excellent service And there are also awards guaranteed by real service users. By counting reviews from real users, Ananya Lipe Resort therefore strives to be the number one accommodation on Koh Lipe.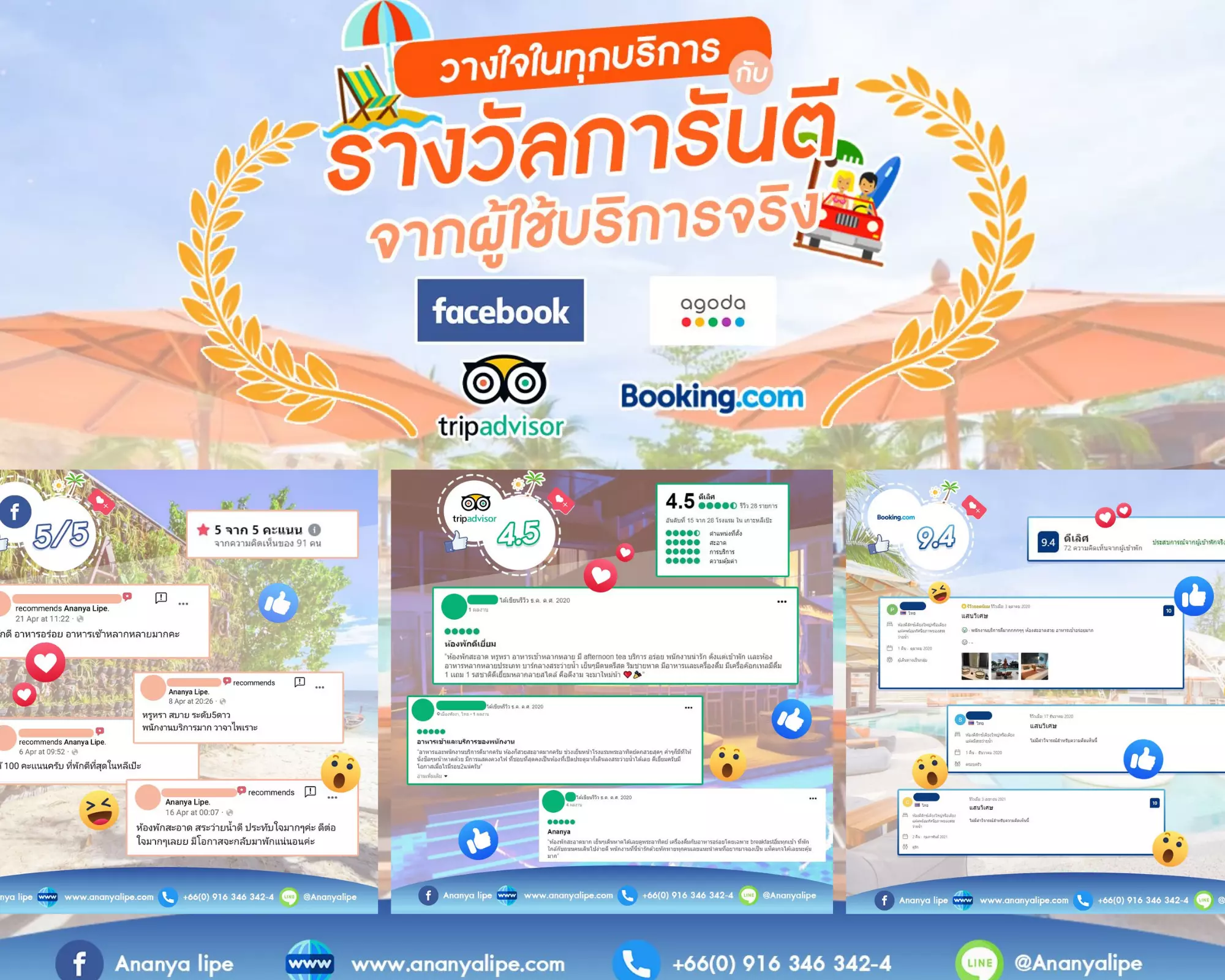 Award No. 1 Accommodation : Koh Lipe Ananya Lipe Resort
Ananya Lipe Resort has received the prestigious Gold Circle Award 2020 from Agoda.com, a popular online booking service provider website, in recognition of our efforts and commitment.By considering the evaluation results of the access to the service of the customers who book the room Location Score (Cleanliness), overall review score (Review), value for money (Value for money), service score (Service), convenience and room quality (Room comfort and Quality), and facilities (Facilities)
In comparison to the other 132 properties on Koh Lipe, Ananya Lipe Resort's overall performance has impressed both domestic and international guests.by being regarded as a resort that receives the most satisfaction from customers who use services at international standards with excellent review scores of 9.2 from Agoda.com.
Ananya Lipe Resort has another award that we have received from online reservation service provider Agoda.com, Booking.com, Tripadvisor.com, and our Facebook fan page with excellent review scores. (Exceptional) "Trust in every service with a guaranteed award from real users."
We are very proud to have been awarded the 2020 Agoda Glowing Circle Award and "Trusted in Every Service and Guaranteed by Real Users." Pee is Koh Lipe's No. 1 accommodation, despite being in a difficult situation due to the COVID-19 outbreak. These awards are a testament to the determination and dedication of Ananya Lipe Resort. We pay attention to every detail of your stay. and are willing to provide the best service to make the guests feel comfortable. We will adhere to and maintain all standards as best we can in order to provide a wonderful experience for users to use the service.and try to develop in all aspects to be even better.
These awards represent a further milestone in development. and the continuous progress of the Ananya Lipe Resort group (Ananya Lipe Resort) would like to take this opportunity to thank all customers for trusting in our services. And all the personnel who support the business of Ananya Lipe Resort and are determined to work hard all the time. Everyone is an important part of bringing Ananya Lipe Resort to this point. We will continue to make progress. It is one of Koh Lipe's to the goal.We would like to thank every guest who chooses to stay with us.
Thank you for all of your feedback. that contributes to our good performance Thank you for the prestigious award you received. Come to be an honor for Ananya Lipe Resort (Ananya Lipe Resort), a seaside resort in Lipe.
You can book accommodation in Lipe with us through many channels.