Tour Lipe 3 days and 2 nights on a small island in the south of Thailand. There is one location that, no matter who visits it, must be captivated by its charm and beauty. The island is called Koh Lipe (Lipe Island), a paradise island for sea lovers. True happiness is coming to an end at sea. Put everything first. Put clothes in bags. Stepping out to see the beauty of the southern sea, I went snorkeling to see colorful corals with groups of anemones and clownfish. Relax with the wind and sunshine. Lie in the sun to get a tan. Go out to eat seafood to your heart's content. Enjoy a wonderful night with light and sound. Come back to sleep in the most exclusive room. Make every day a special one. Come and join us. Ananya Lipe Resort here is full of fun.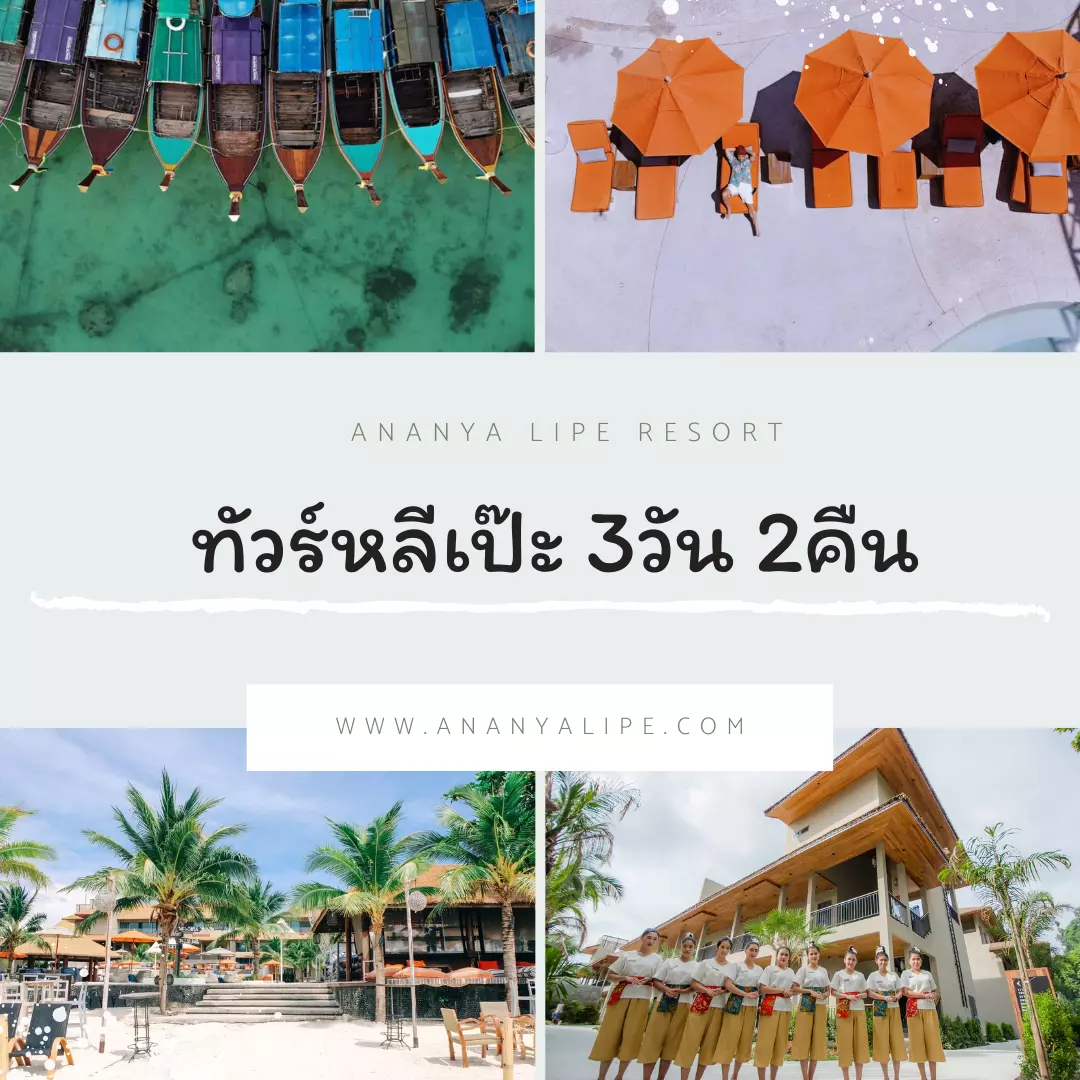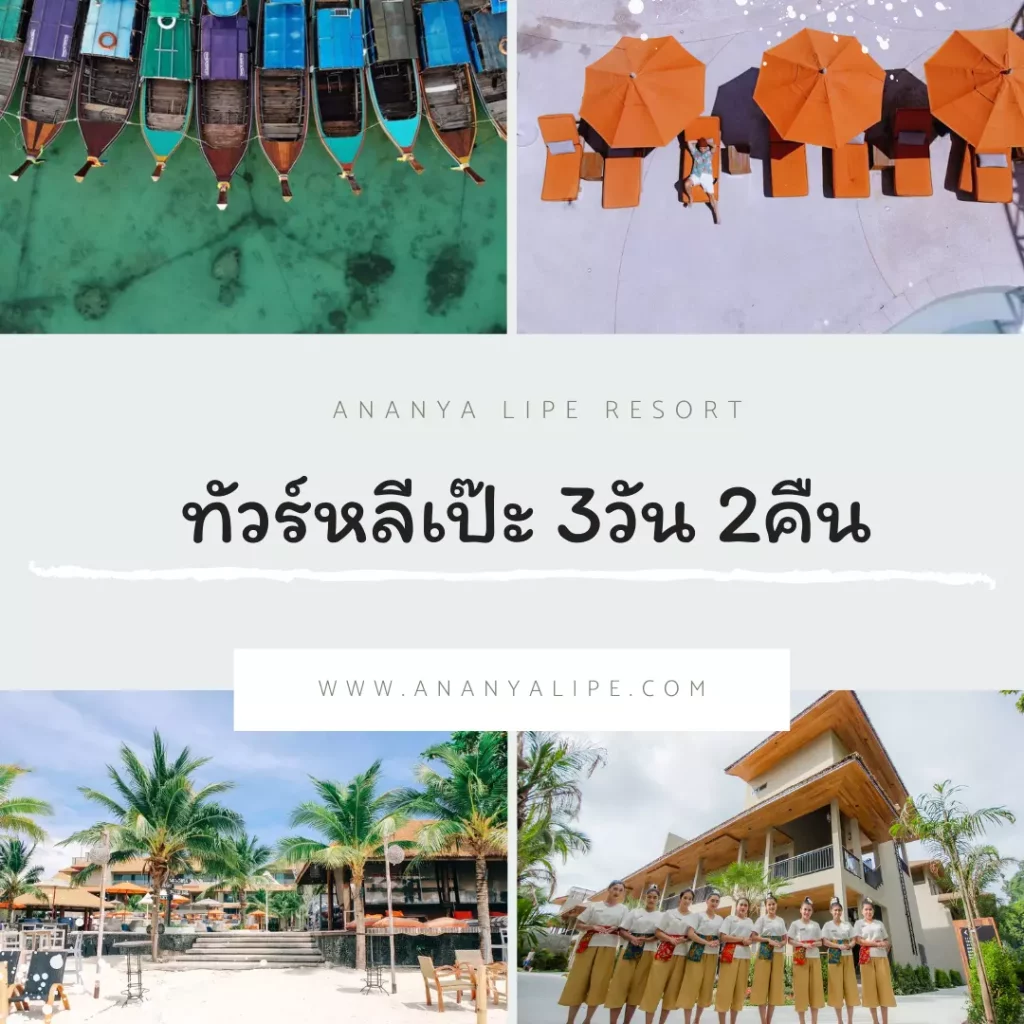 Whether you are a new visitor or an old one, we welcome you all. Whether you come alone, backpack alone, or form a group of close friends,or come together as a family and have fun together. There are many forms, whether it is a one-day trip, a one-day trip to Lipe, a package of 4 days and 3 nights, or a popular package of 3 days and 2 nights. will take friends to join in with activities on Koh Lipe and outside Koh Lipe. Friends will be able to go snorkeling to see coral reefs at various islands, which have unique beauty.
Koh Lipe snorkeling trips are divided into 2 zones: snorkeling in the inner zone; and snorkeling in the outer zone. We will go too. Koh Lipe Snorkeling Tour will take friends to the islands around Koh Lipe, including Rong Nam Jabang, Koh Hin Ngam, Ao Song, Koh Adang, and Koh Rawi, and dive in the outer zone. will go further to those islands, consisting of Koh Rok Loy, Koh Dong, Koh Phueng, Koh Hin Sorn, and Koh Phai. After returning from diving, each zone will take one full day. We've been playing in the water all day. must relax with Thai massage. I lay in the cool breeze by the beach, letting the feeling go with the wind. Massage is another very good option. that will make us relax and recover from fatigue. When it gets cold, I go out for a walk. Koh Lipe Walking Street is crowded with tourists, with both sides of the road full of snack shops. Or if you want to buy souvenirs to take home, there are many to choose from. In the evening at Ananya Lipe Resort, at the beachfront, there will be a spectacular fire show on the beach from the Art Beach Club team for friends to enjoy. with being able to travel with a tour of Lipe 3 days, 2 nights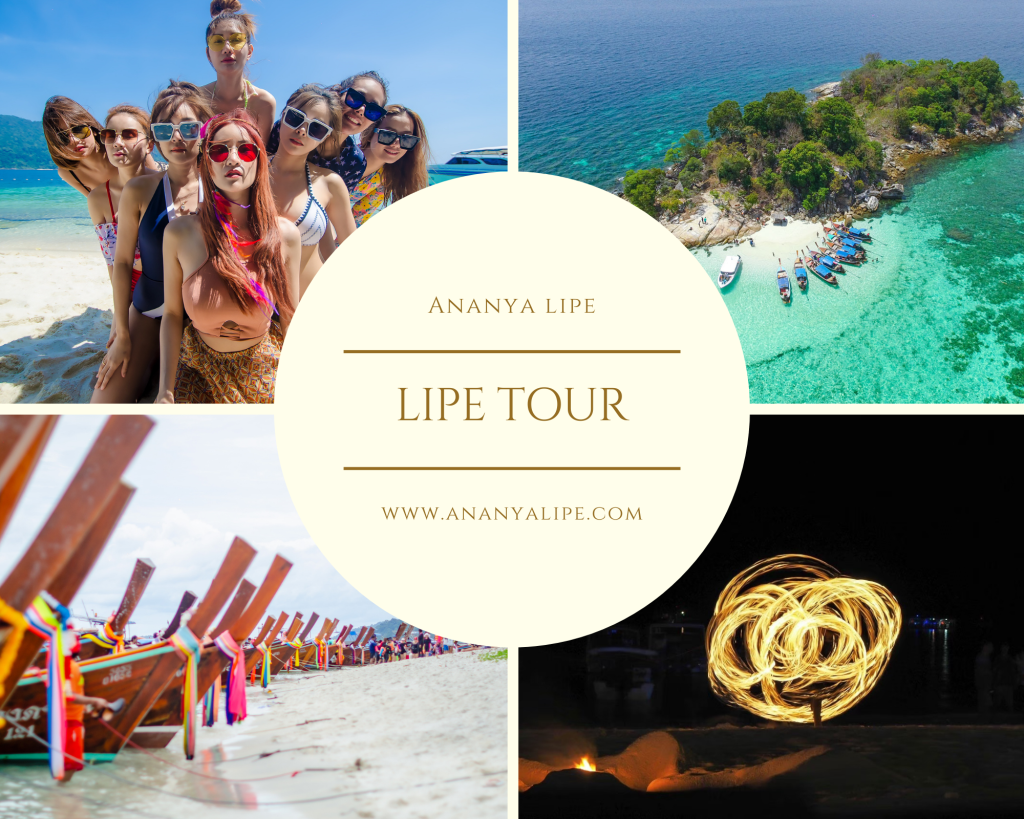 Take an island tour (Lipe tour, snorkeling)
Put clothes in bags, book tickets, book accommodations, and buy tours to Koh Lipe. and escaped to visit Koh Lipe. When you arrive at Pak Bara Pier on the first day, we will take you to Stopover before we go to Koh Lipe. to check into your lodging The first stop on Tarutao Island (Tarutao Island) still has a beautiful natural abundance. has been regarded as "Asean Heritage." The boat will stop by for friends to come and worship the sacred things. "Shrine of Tarutao" for auspiciousness We continue our journey to Khai Island, where many sea turtles used to lay eggs. In addition to the beauty of nature on the island, there is also a "natural stone arch" that is a tourism symbol of Satun Province. It is believed that couples who come to walk through this stone arch will find their love fulfilled and lasting. until it was nicknamed "the Island of Love."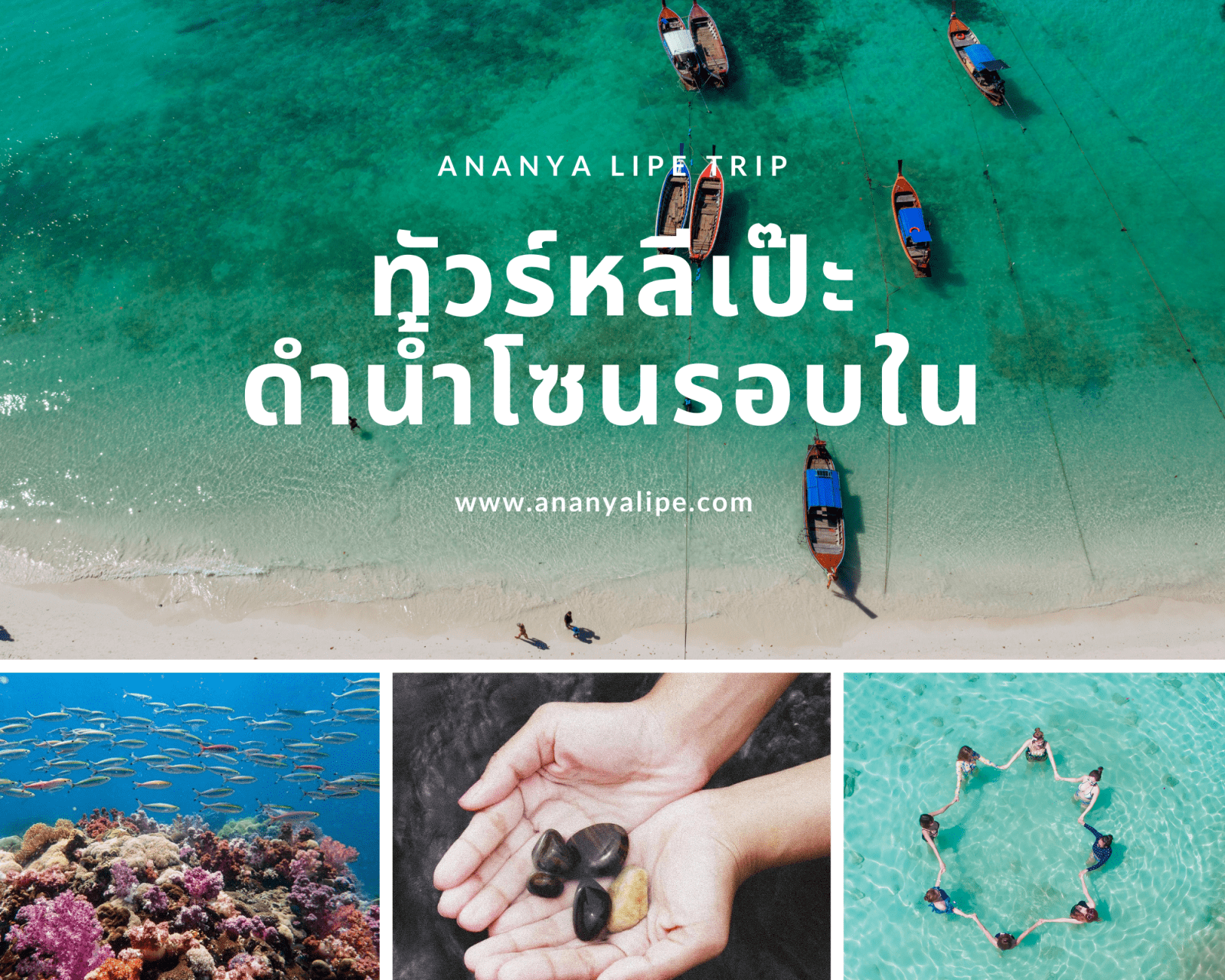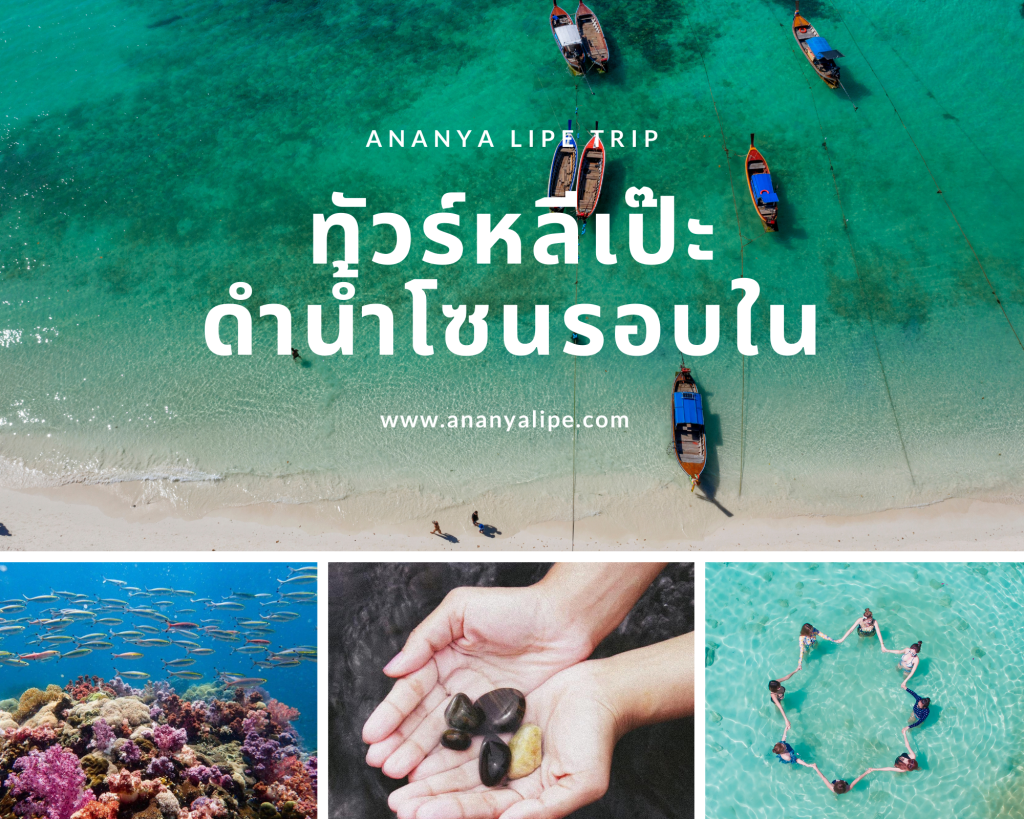 Lipe diving trip
Diving around the inner zone In order not to waste time, let's start a diving trip at Lipe. The first diving spot is better than the popular diving spot, Chabang Raceway, a shallow coral reef spot. You can't miss it. It is a beautiful location to see seven different colored corals. The current is very strong. (Hold on, everyone.) We can do both snorkeling and scuba diving. Let's move on to Koh Hin Ngam. This is where there are black rocks lining the beach. glistening upon impact with sea water Everyone on Koh Hin Ngam has something forbidden. is to visit here and not bring the stone back with you. Who secretly took the stone home? It is a place to bring back every stone, and the next place, Koh Adang, is close to Koh Lipe. On the island, there is peaceful and private accommodation. Rich in nature and waterfalls, there is an important check-in point, Pha Chado, overlooking Koh Lipe. and is a very beautiful sunset point. Koh Ravi is a sister island to Koh Adang. They are only one kilometer apart. Koh Ravi has a beautiful sandy beach. Suitable as a stopover for tourists for lunch And here's some free, clean water from the park.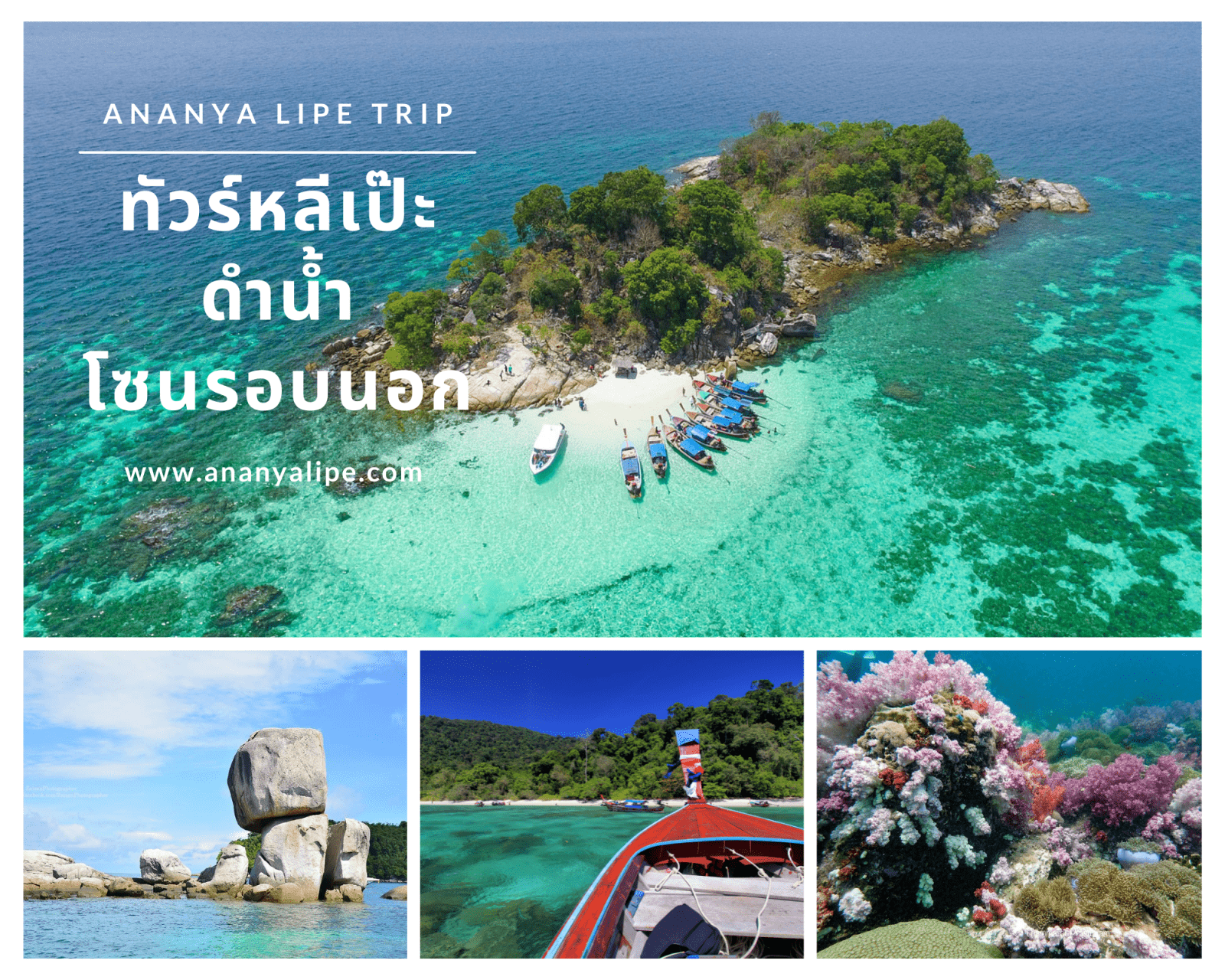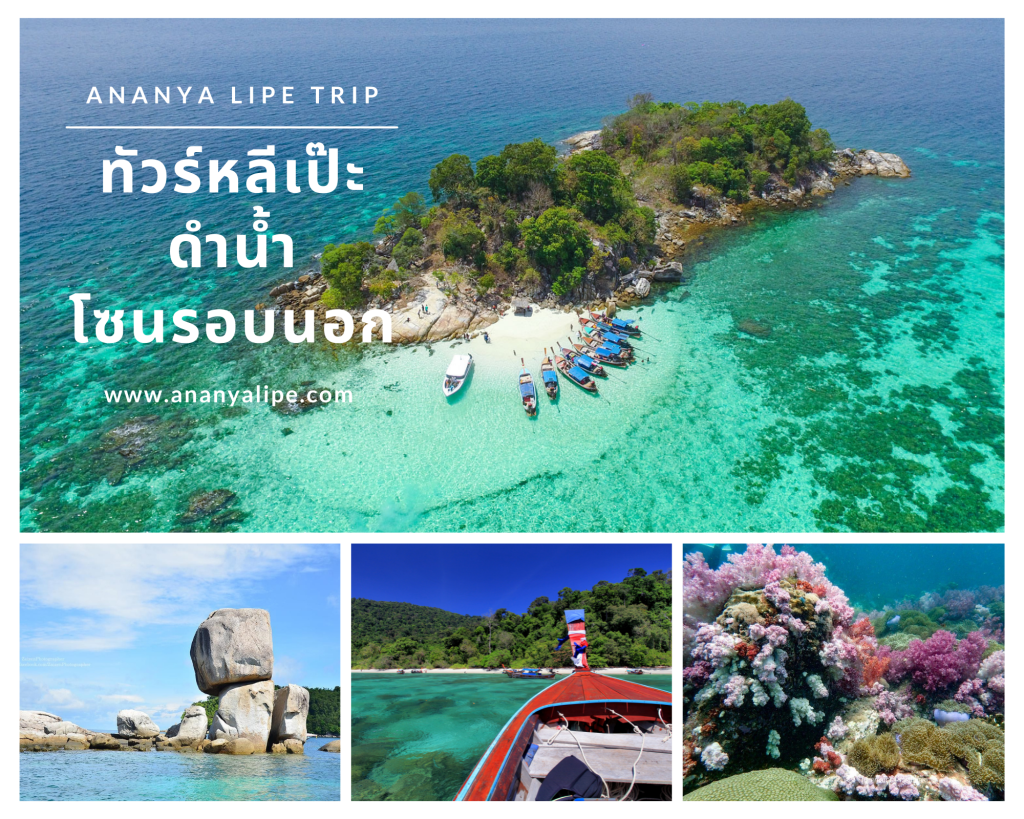 Next, we will take friends out to sea. Dive in the outer zone together. Guarantee that the diving trip is in the outer zone. Its beauty is not less than that of the surrounding area in Loei. Koh Rok Loi is about an hour away from Koh Lipe. What attracts tourists to this island? The sea is clear, and the sky is emerald green. It's very beautiful when it hits the sunlight. makes it nicknamed "Emerald of the Sea" with its white sandy beaches. And there are a lot of staghorn corals. It is often a stopover for swimming and taking pictures in a private atmosphere. When we take a rest and get tired, let's continue to fight together. Koh Dong is a large island with small islands surrounding it. Koh Dong has a white beach called Monkey Beach, suitable for swimming and relaxing. A little later, at the water channel in the middle of the sea There is a small, rocky island without a sandy beach called Koh Phueng. It is a source of various species of soft corals. This is one of the most beautiful spots for snorkeling. Another highlight of the outlying diving trip is Koh Hin Son. Nature has created two large rocks miraculously stacked on top of each other. Dive underwater, surrounded by soft corals, hard corals, anemones, and clownfish. Plus, the water is shallow as well, so friends can go diving with peace of mind. And finally, Koh Phai is an island where you can enjoy playing in the water a lot. Because of Koh Phai, a small bay with shallow water that is rich in coral reefs. group of clown fish and anemones Everyone is so beautiful.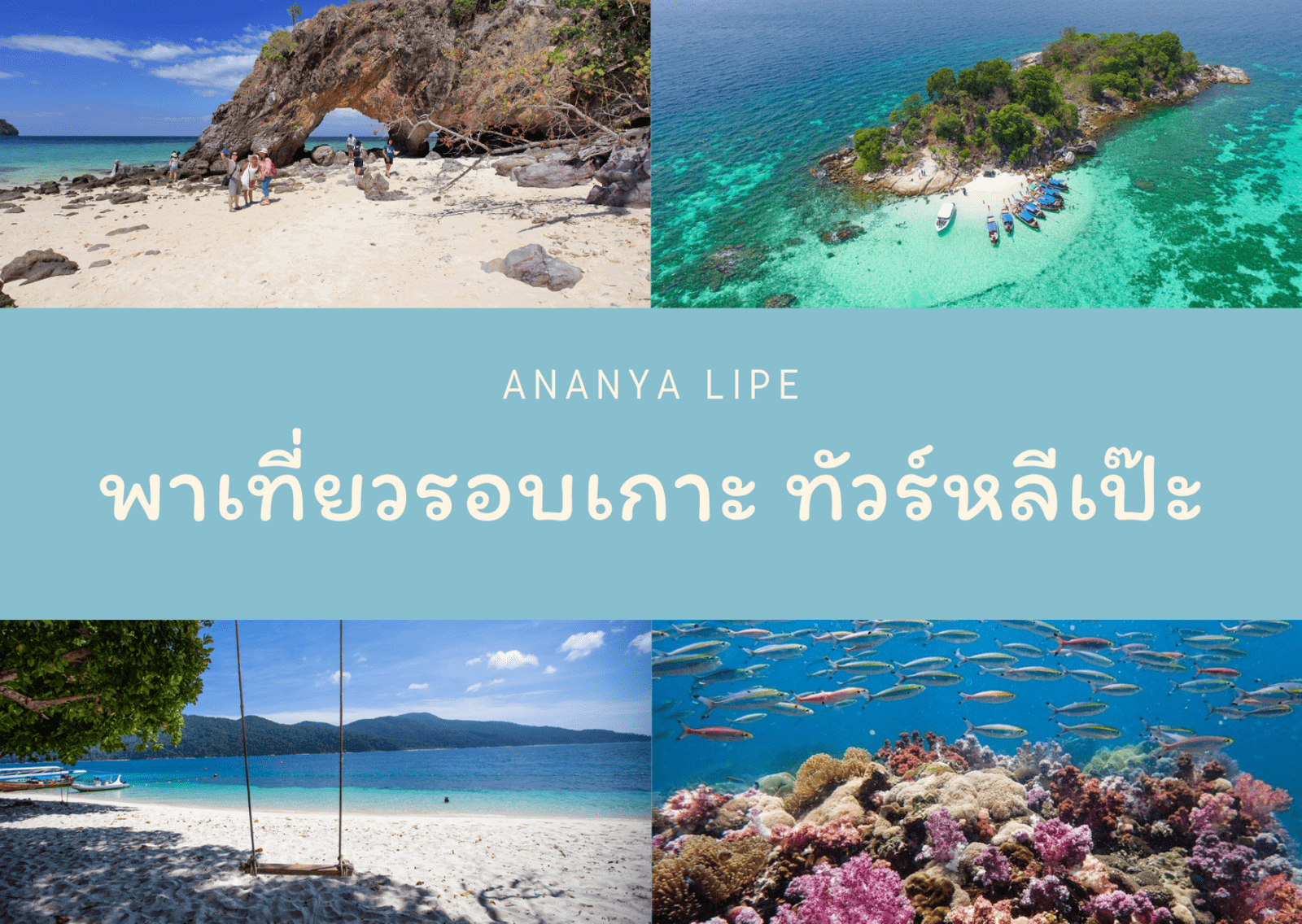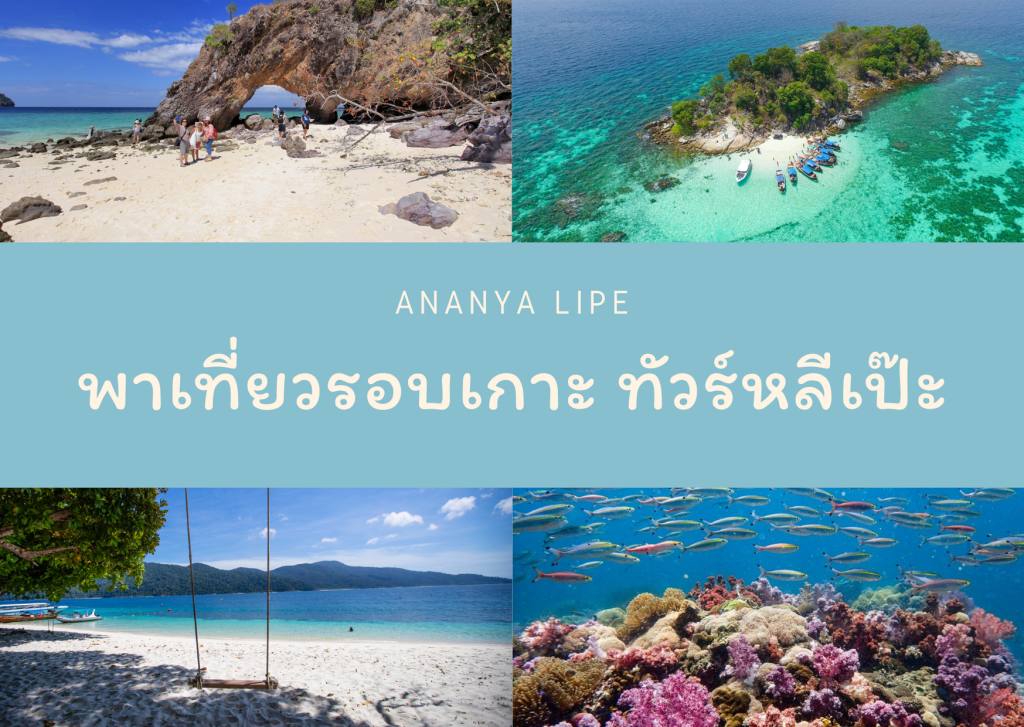 We have come to organize a program to visit Koh Lipe during the holidays. But if you still don't know where to travel, follow us here. We have a trip to the island for 3 days and 2 nights. I guarantee that an ordinary holiday will become a special holiday for you. Koh Lipe is known as the "Maldives of Thailand," and it is a haven for water lovers. Tourists who have visited Koh Lipe all say with the same voice that Koh Lipe's sea It is one of the most beautiful seas. Everyone here says the sea water is beautiful, right? We'll take you snorkeling to see colorful coral reefs. Look at these adorable cartoon fish. For diving lovers who come to dive at Koh Lipe, say the same thing: "Under the sea here is very beautiful." There are a lot of diving spots. Diving inside and outside the zone Whether it is a shallow water area or a deep water area, this beauty is not lost. The sand beach at Koh Lipe would like to say that it is very beautiful. The beach is white and smooth, like powder. Sitting comfortably on the beach makes you feel most relaxed. Koh Lipe consists of three main beaches: Pattaya Beach, Sunrise Beach, and Sunset Beach. These three beaches are unique and beautiful. We are going to introduce these three beaches again. But now let's go for a walk with some friends. Find delicious food or shop for souvenirs at Koh Lipe Walking Street. Walking Street Koh Lipe is a must-see. In the evening, this area will be teeming with tourists, both Thais and foreigners who have come to visit. I would like to secretly whisper that Ananya Lipe Resort (Ananya Lipe) is an accommodation near Lipe Walking Street. The transportation is very convenient. Book your accommodation in Lipe for 3 days and 2 nights.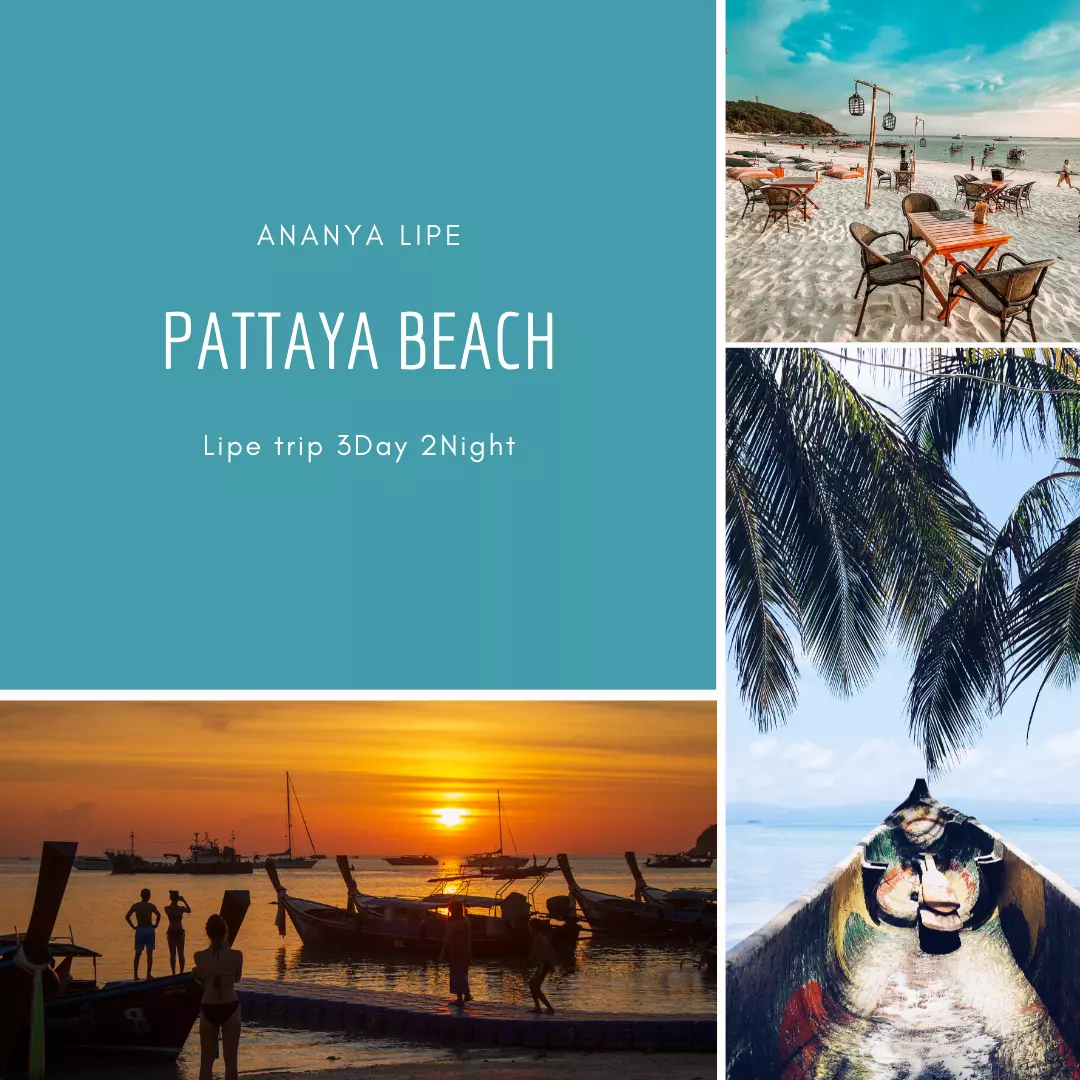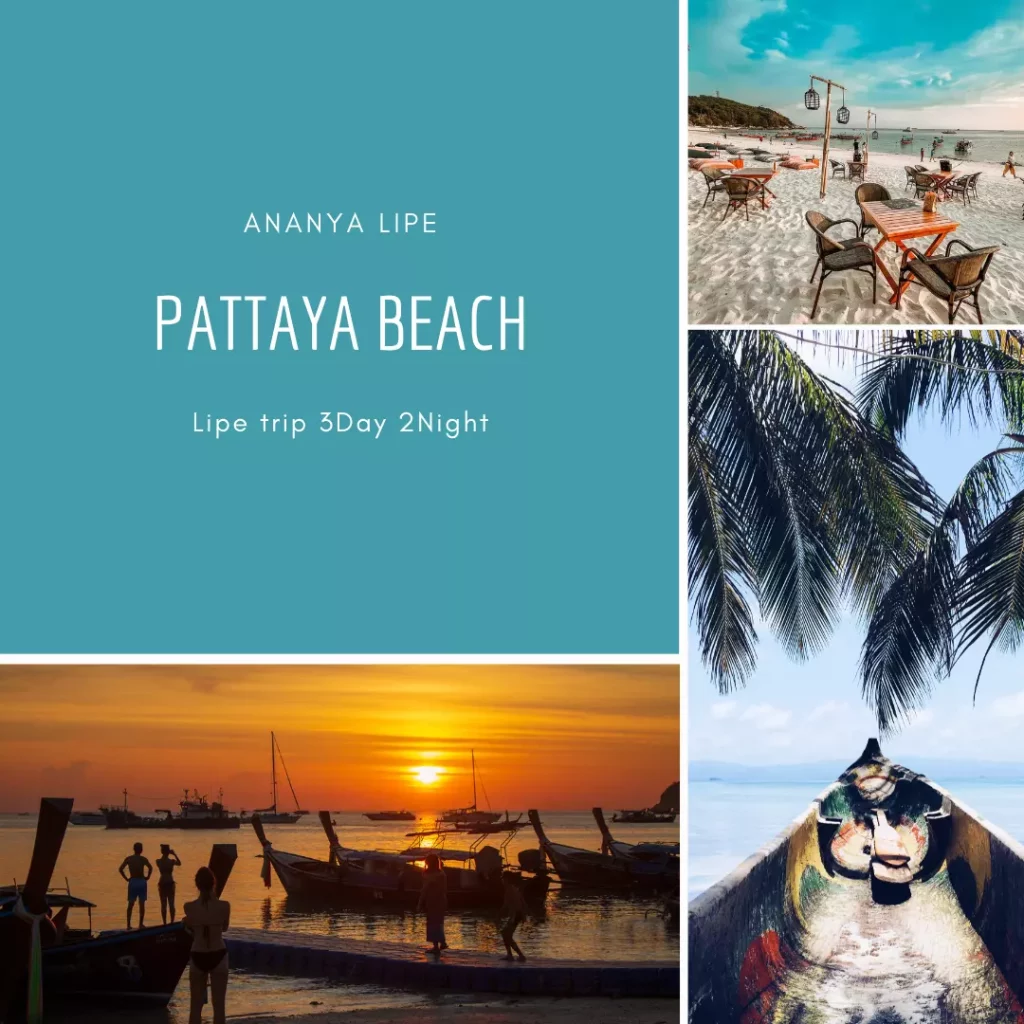 Let's get to know the three beaches on Koh Lipe better, starting with Pattaya Beach (Pattaya Beach) or Bundhaya Beach, located in the southern part of Koh Lipe. Pattaya Beach is the busiest on the island. There is a pier for mooring speedboats. and long-tailed boats come in and out all the time. The beach here is very beautiful. At night, there are many different performances on the beach. There are many restaurants here. With complete facilities compared to other beaches, our Ananya Lipe Resort (Ananya Lipe) is located on this Pattaya beach. It is a very beautiful beach resort.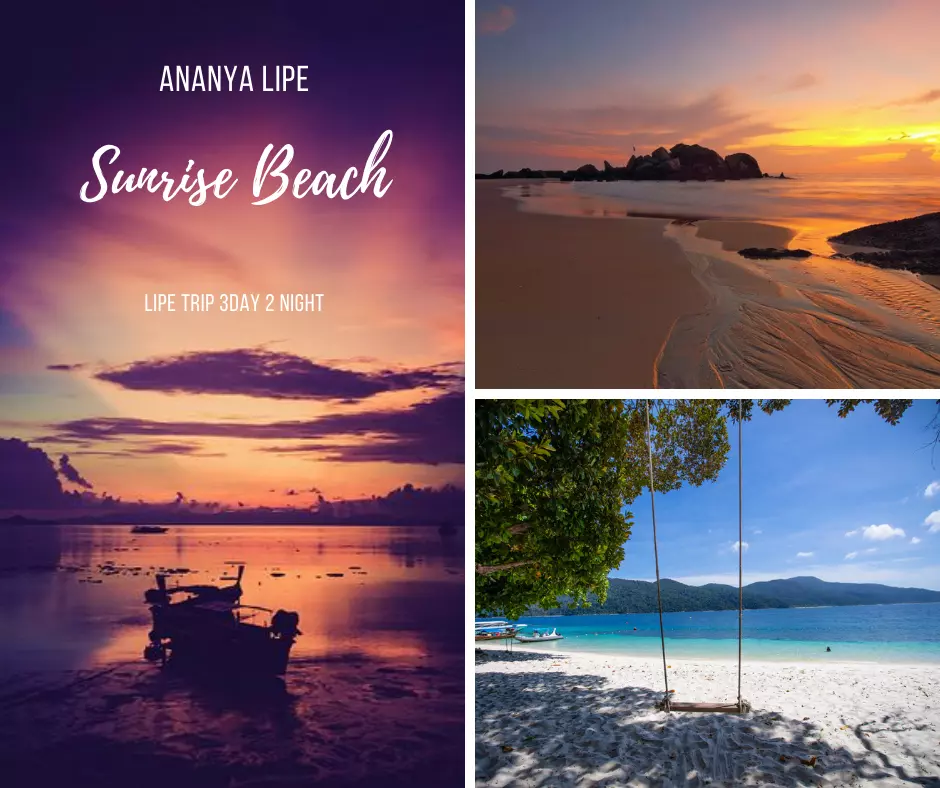 We went to watch the sunrise at Sunrise Beach. There are many pubs and bars; there is a beautiful beach; the wind always blows towards the shore. It is more peaceful than other beaches for those who come to relax. Sunrise Beach, with its chilling breeze by the sea, is another good option.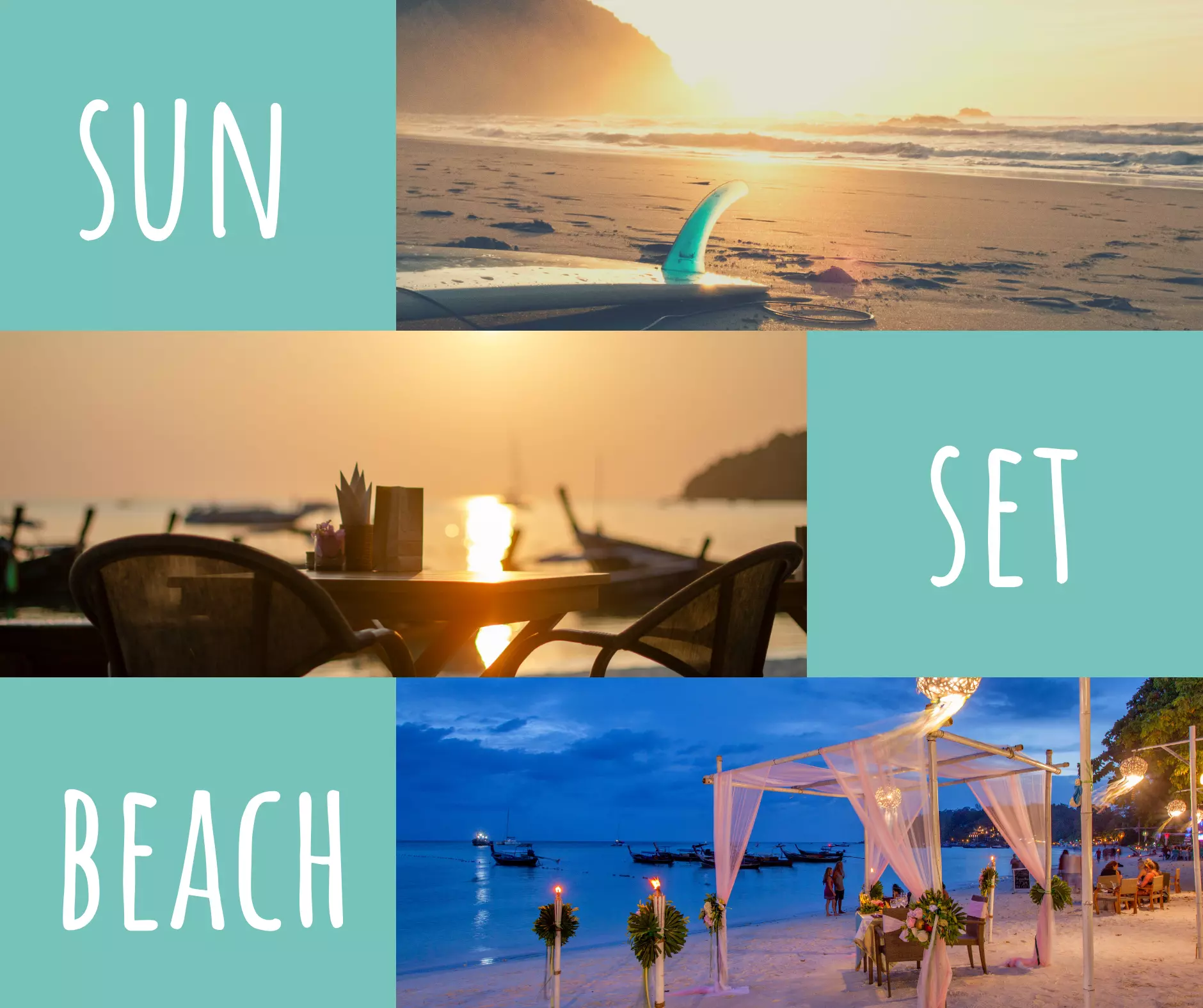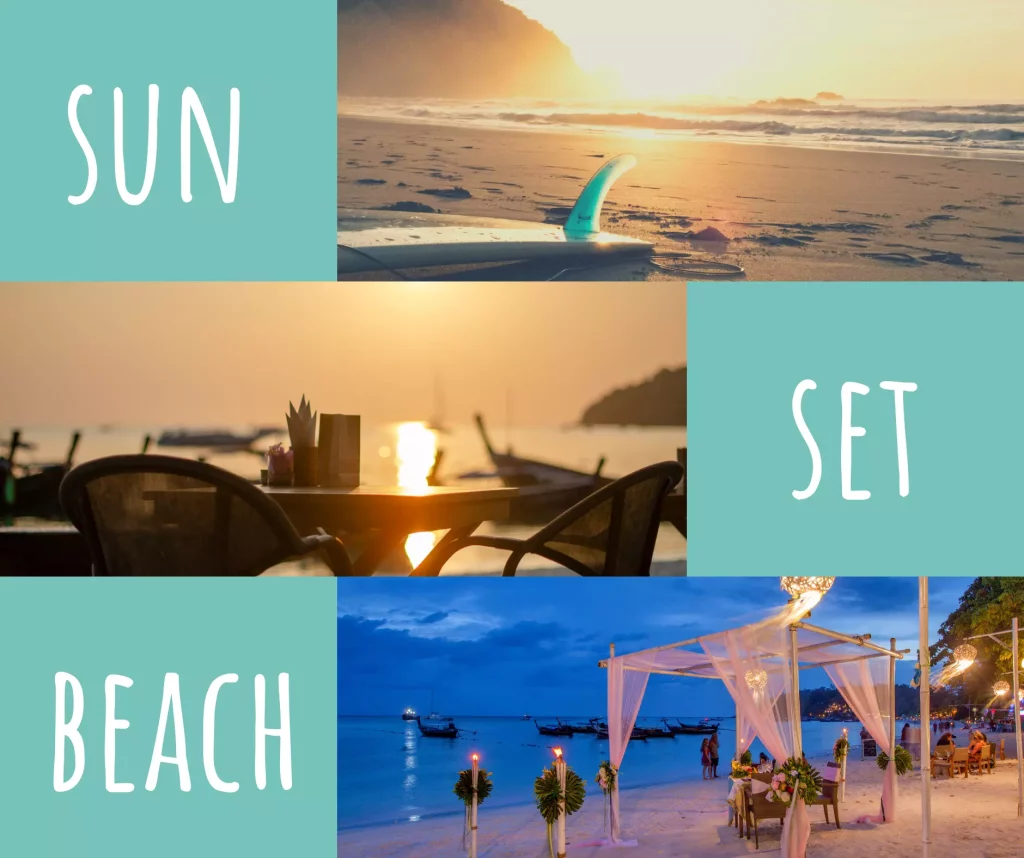 sunset With a romantic atmosphere on the west coast of the island at Sunset Beach, this beach will have a private atmosphere. There are fewer tourists than on other beaches. But the sandy beach is not less beautiful than other beaches, so it's very beautiful. Get to know Koh Lipe roughly, and don't forget to follow us to arrange a package tour of Lipe for 3 days and 2 nights. Let's travel a lot.
Lipe Package 3 Days 2 Nights
WOW! Wow, wow, wow! Package Lipe 3 days, 2 nights We arrange a travel program for everyone. Get to travel and relax on Koh Lipe with the program to Lipe for 3 days and 2 nights.
Day 1: Hat Yai Airport – Pak Bara Pier – Tarutao – Khai Island – Lipe Island
08.30 a.m. : Join van pick-up at Hat Yai Airport
09.30 a.m. : Depart from Hat Yai Airport to Pakbara Pier It takes about 1.3 hours.
11:00 a.m. : Arrive at Pakbara Pier and get ready to board a joining speedboat to Koh Tarutao. Visit the shrine of Tarutao and continue to Khai Island, taking pictures of the natural stone arch. Tourist sign, Satun province, about 15 minutes, heading to Koh Lipe
13.00: Arrive at Koh Lipe Check-in at the accommodation at Ananya Lipe Resort. welcome you with a welcome drink. The staff sends you into the room. and rest at leisure.
6:00 p.m. : Take a walk on Walking Street. See the nighttime atmosphere of Lipe.
7:00 p.m. : Free time/Good night
Day 2: diving zone in
08.00 a.m. : Buffet breakfast at Ananya Restaurant
09.00 a.m. : Prepare personal belongings to go out to experience the beauty under the Andaman Sea.
09.30 a.m. : Travel by long-tailed boat, join, and see soft corals of seven colors around Chabang Channel, the most beautiful and perfect shallow-water coral spot, Hin Ngam Island, a natural black stone beach that has been polished to shine with the legend of the curse that will occur. If you're secretly bringing the stone back with you, vote up.And on the way to Ao Song, Koh Adang-Rawi, there are many giant clams of various colors. ** Remarks on Day Two of the Trip **
4:00 p.m. : Return to the accommodation (rest at leisure).
Day 3: Return to Koh Lipe, Pak Bara Pier, Hat Yai Airport
08.00 a.m. : Buffet breakfast at Ananya Restaurant
9:00 a.m. : Pack your luggage and prepare for check-out.
09.30 a.m. : Get ready to board a joining speed boat to Pak Bara Pier.
11:00 a.m. : A joining van will pick you up at Pak Bara Pier. (Stop by to buy local souvenirs.)
11.30 a.m. : Depart from the pier for Hat Yai Airport.
13.00 p.m. : Arrive at Hat Yai Airport safely.
**The program may change as appropriate, mainly depending on the weather and safety.**
If your friends come to follow the Lipe package program for 3 days and 2 nights, you can guarantee that you can eat, travel, and relax to your heart's content. If you want a nice place to stay with good atmosphere, delicious food, and excellent management, here's Ananya Lipe Resort.
Lipe Tour 4 Days 3 Nights
If friends are not satisfied with diving on the first day and want to continue diving, we have a package of 4 days and 3 nights that will add another full day of diving programs for them. On the third day, we will take friends snorkeling at the outer diving zone.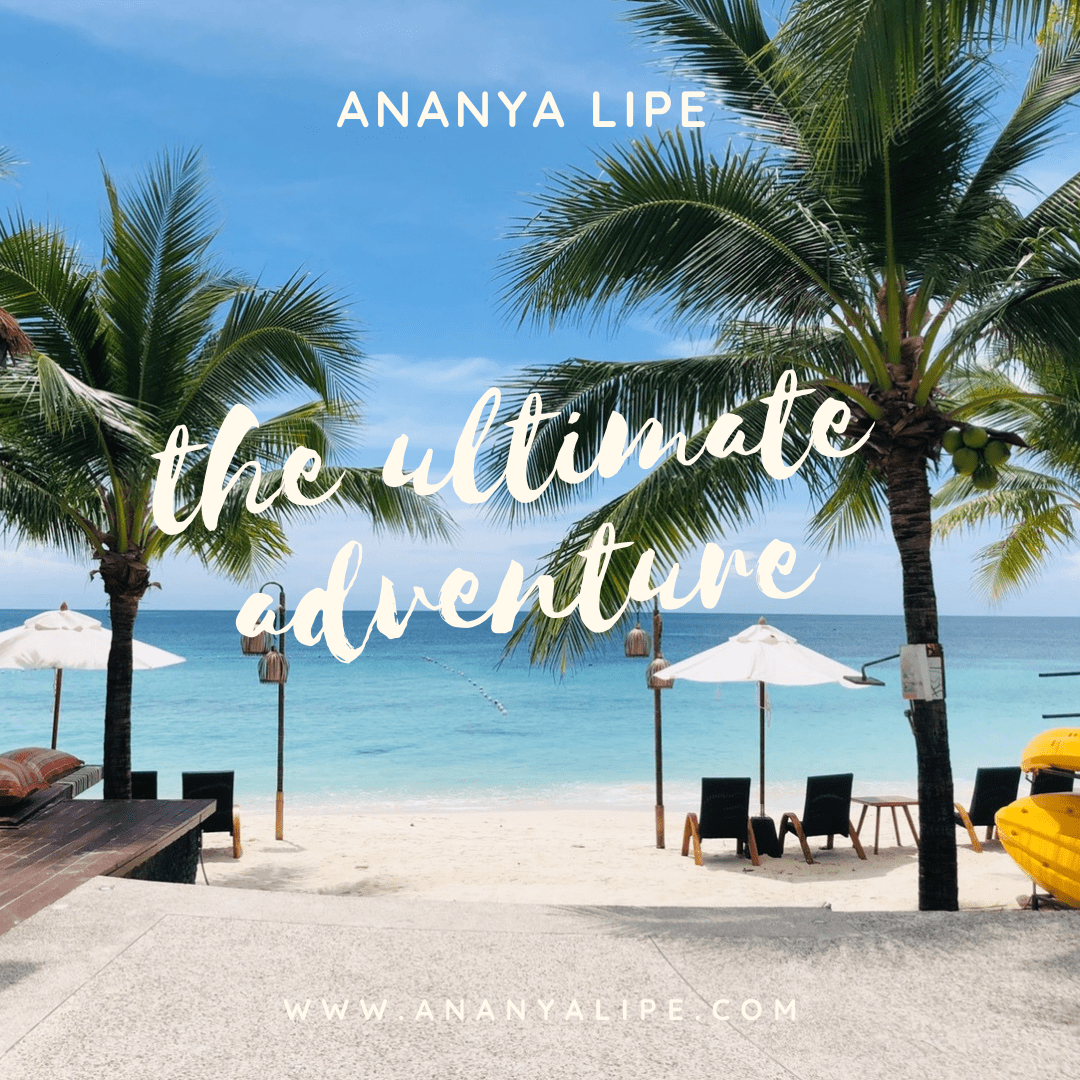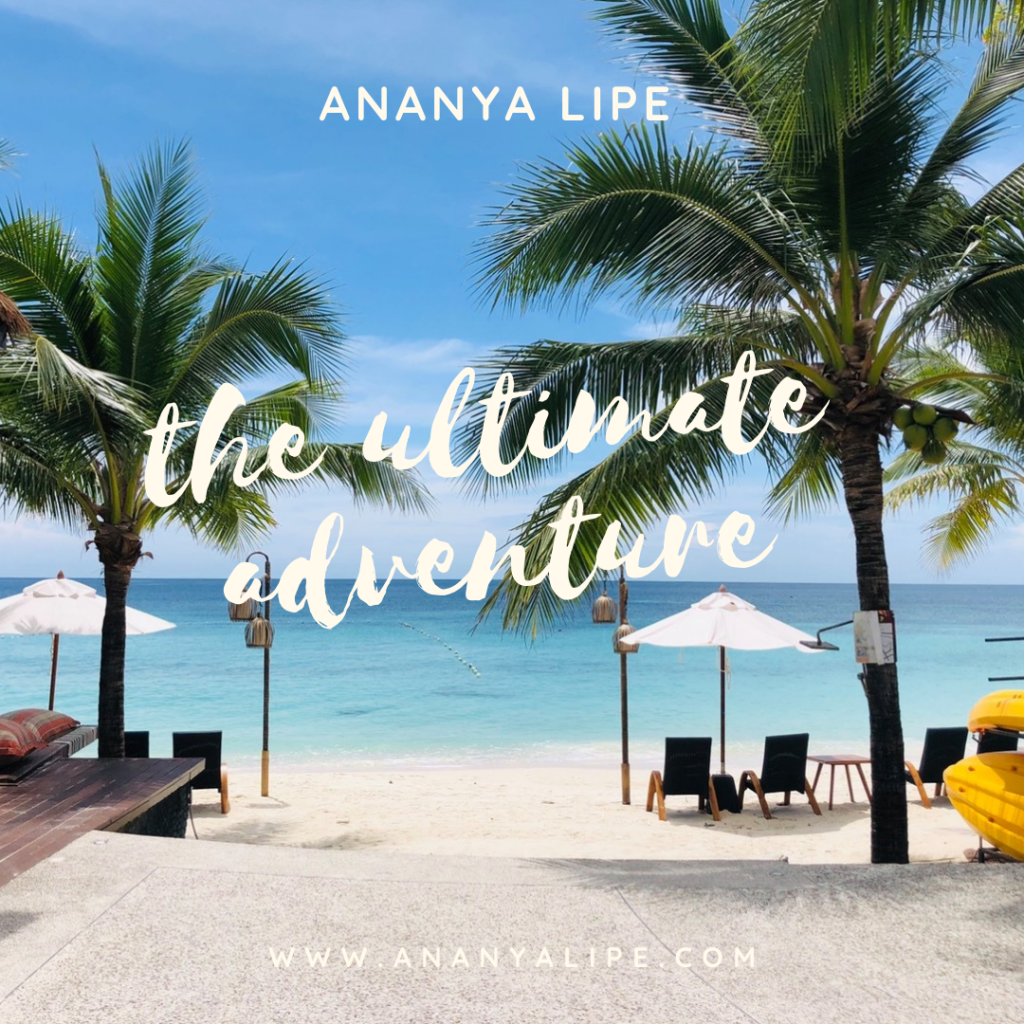 Frequently Asked Questions (FAQs)
What is the high-season travel channel?
It's a tourist season. which has a lot of tourists from October to May, there will be a peak season that will be especially bustling, December through January 31.
What is the low-season travel channel?
During the low season, from June to September, there will be fewer tourists than during the high season. This is during the rainy season. Koh Lipe is accessible all year. You will get great accommodation prices and packages, as well as many free gifts.
When is the Green Season for travel?
It is the same travel period as the low season, which is the rainy season in our country. The weather is very good. Koh Lipe can travel throughout this period. Room rates and tour packages, for example, will be reduced.
Ways to book rooms
There are many channels working together. Ananya Lipe; ananyalipe.com; +66 (0) 91 634 6342 L4, expedia.com; agoda.com; th.trip.com; traveloka.com; booking.com
If interested, contact us to reserve a room.
You can book accommodation in Lipe with us through many channels.